Exemplary PK20 Boundary Spanner Award
All nominations and supporting materials must be submitted electronically to the NASUP Awards committee using this link no later than January 8, 2024.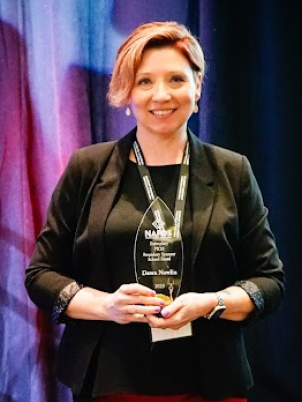 Dawn Nowlin, Whitehall Elementary, part of Bowie State University PDS Network
In Dawn's boundary spanning roles, her work has included being a Bowie State University adjunct professor, member of the BSU PDS Network, coordinator of the elementary PDS methods instruction team, BSU mentor teacher and coordinator of mentor teacher workshops. In addition, Dawn has served in a variety of roles with NAPDS including reviewer, author, presenter, Assistant Editor for PDS Partners: Bridging Research to Practice, and co-editor of the first themed issue for this journal, For Teachers by Teachers and About Teachers.
Gina Dudkowski, South Buffalo Charter Schools, part of Buffalo State PDS Consortium
As a boundary spanner, she works tirelessly to enhance the learning of all those involved in the partnership and beyond. She values the PDS partnership and creates ways that teacher candidates, mentor teachers, and college faculty can grow professionally to in turn benefit children. Ms. Dudkowski also supports the dissemination of this research through encouraging teachers to present with faculty at local and national PDS conferences, as well co-presenting. She also invites faculty to share this work with the school board to increase communication with all stakeholders and build a shared PDS vision.
Dr. Kristien Zenkov, George Mason University
Dr. Zenkov's career of over 30 years has been rooted in the belief that every voice and every story deserves to be heard. His research, practice, and partnerships with university- and school-based educators live out these values in every endeavor to which he devotes his time and energy. Some of his recent work with boundary spanning includes publications with colleagues regarding boundary-spanning structures and practices, provides opportunities for doctoral candidates and school-based teacher educators to engage with boundary-spanning activities, and developing a SEED Alumni Network, with a focus on scaffolding alumni into understandings of and engagement with boundary-spanning activities and roles.
Dr. Elizabeth Hale, Tiger Academy, PDS School of University of North Florida
Dr. Hale is an Assistant Professor of Elementary Literacy for the UNF College of Education and Human Services. Dr. Hale's passion for working in and with schools is exemplary and serves as a true role model for tenure-track and tenured faculty to serve as boundary spanners. She has developed an innovative approach to teaching reading and has published a book on the topic. She continues to research her work and share it by working with teachers to co-present their collaborations around literacy. In addition, Dr. Hale has demonstrated the skillset of designing and leading meaningful professional learning experiences for teacher candidates and teachers.  Dr. Hale is an exemplary boundary-spanner! Her work matters as she is impacting teacher candidates, teachers, and K-5 students.
Background
This NASUP award recognizes an individual who is exemplary in meeting Essential 8 where the individual moves beyond the responsibilities of one's job to impact a third space. Boundary spanners are situated in a "third space"  between university and PK12 settings and are not bound solely by the traditions or responsibilities of any one institution.  An exemplary PK20 boundary spanner innovates the systems or practices to enhance the learning of all of those involved in the partnership. 
Eligibility
In order for a candidate to be considered eligible for this award, they must:
Be either a boundary-spanning university-based educator or PK12 school-based educator within a mutually beneficial partnership program

Be a member of NASUP at the time of the Annual Conference 

Attend the annual conference during the year nominated  

Receive a nomination from a member of NASUP
Criteria
Promoting exemplary practice through demonstrated leadership and impact. Candidates will be considered in light of their contributions in one or more areas, including:
Contributions to developing and enacting aspects of the NASUP 9 essentials within and/or beyond their organizations

Collaborative nature of the work benefits both the university and PK12 school through continuous improvement and connections to theory and practice

Deconstructing traditional power relationships through the support of and dialogue across contexts; work to understand roles and responsibilities across boundaries and relate to others across those boundaries

Engaging in practices to understand and interpret differing perspectives that lead to the creation and/or maintenance of mutually beneficial school-university partnerships
Nominations
The nomination must demonstrate how the recipient is worthy of being named exemplary boundary spanner. A single nomination letter, no longer than 3 single-spaced pages with 12-point font and 1-inch margins is required.   One supporting letter addressing the criteria for the award, may be submitted in addition to the nomination letter.  A copy of the nominee's resume or vita must also be included. Please note: Nomination letter and supporting letter must be from two different individuals. 
Nominators are encouraged to inform the nominee so that the nominee can provide any information that will assist in providing the nomination.
Selection Process
 NASUP members may nominate candidates by letter or email to the Awards Committee using

this link

.

All nominations and supporting materials must be submitted electronically to the NASUP Awards committee no later than

January 8, 2024.

A sub-committee of the Awards Committee will review nominations using a simple rubric based on the eligibility conditions and criteria detailed above.

The winner(s) will be announced at the awards ceremony of the conference and publicized by press release to the honoree's home institution and via the NASUP publications and website.